WEALTH
Wealth and abundance are important elements in living a life that is financially stable and free of stress.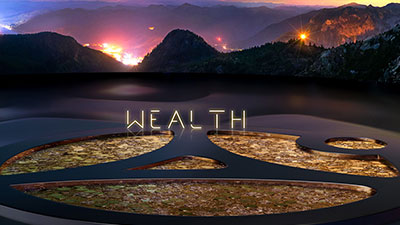 Having a job and earning money is one way to have wealth. However there is another level of abundant living that involves attracting the idea of wealth and prosperity. Having a mindset that brings abundance into one's life is the key to knowing how to attract wealth. Follow these steps to learn how to attract wealth and begin living a financially secure life.
Understanding the law of attraction.
Money is a force. It is a concentrated symbol of energy and power in life. Like all forces in the universe, money obeys certain universal laws or principles. By understanding those laws and acting appropriately, we gain a great power over money, enabling wealth and prosperity to come our way.
Most of us are aware of the importance of hard work, determination, and drive to attract money. However, there are also other, more hidden and subtle ways to attract money, wealth, and prosperity. When followed, these methods have a tendency to instantly attract money from seemingly out of nowhere, defying our normal notions of cause and effect, and what is logical and possible. Such sudden and abundant results are indications of the wondrous phenomenon of "life response" at work.
Therefore we want to share with all of you this calm and powerful wallpaper using Arnaez Studios logo filled of gold coins.
After apply it as wallpaper, look and focus in the center of your screen and repeat many times: "I am worthy of prosperity."
Enjoy and very happy thoughts!
NOTE: If you want to have your customized wallpaper with your logo, name or even you picture click here to get our service . Send us the file and description of you idea.
Please follow and like us: