Why Invest in Social Media?
Social media management ensures all your online marketing activities
complement each other, helping you maximize your marketing budget.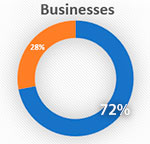 Social media marketing is a proven way to increase your reach and influence over the customer experience.
72% of businesses
who have measured their return on investment agree that social media campaigns effectively market products and services. A strategic social media presence across multiple platforms is essential for any business today. This means having a coherent, targeted approach to creating and distributing content that engages your customers.
Here are some of the reasons social media campaigns can help you grow your business.
1. With the rise of mobile technology, the new generation of consumers have grown up online.

In fact, digital natives prefer online media to traditional TV or print media. 50% of 18-34 year olds would stop to watch new YouTube content by their favorite creators. 80% of Instagram users follow at least one business on the platform. What's more, content seen on social media has an impact on real world decisions. For example, Facebook influences the online and offline behavior of 62% of consumers.





2. Follower engagement is a major advantage that social media has over traditional marketing.

Target customers can interact in real time with your brand, building an authentic connection with your company. Twitter has proven to be the preferred platform for communication between businesses and customers, with 41% of users voicing opinions on products, and 19% inquiring about customer support through the site. Engagement also increases brand awareness with potential customers.
Arnaez Studios
harnesses the power of social media to give your business the visibility it needs to grow. Consistent engagement and brand recognition can be built up over time with great content, tailored for each social media site. We will manage your social media presence on major platforms (
Facebook, Instagram, YouTube
), and write compelling business content like articles or blog posts. With our in-house design expertise, we will also create original graphic content for advertising campaigns that will make you stand out from your competitors. Arnaez Studios will work with you every step of the way to increase engagement with target audiences and expand your presence online.
Contact us
to see free samples of our work.